Summer holidays were on. Lots of flowers were in bloom, and bees were buzzing around. Dhara, 8 years old, was playing in the garden with her friends.  All of them were wearing brightly colored frocks. Suddenly Dhara started screaming in pain and crying. Her mother brought her inside. On examination she had found to have a bee sting. This was not the first time that it had happened. She started having itching and hives, and swelling at the site of the sting. Her parents immediately rushed her to the hospital, and treatment was started. She had to stay for a day in the hospital and was fine.
Insects stings of  bees, wasps, fire ants, etc can give a severe allergic reactions
When you're stung for the first time, there may not be a severe reaction.  Your immune system gets sensitized, so the next time round, chances are get a more severe reaction than the first. This reaction could be fatal too so it's advisable that you attend your emergency department immediately.
What insects to look out for?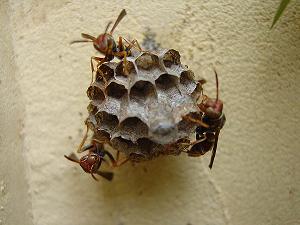 Yellow jackets are black with yellow markings, found in various climates. Their nests are usually located underground, but sometimes found in the walls of buildings, cracks in masonry or in woodpiles.•    Honeybees have round, fuzzy bodies with dark brown and yellow markings. They can be found in honeycombs in trees, old tires or other partially protected sites.

•    Paper wasps are slender with black, brown, red and yellow markings. They live in a circular comb under eaves, behind shutters or in shrubs and woodpiles.

•    Hornets are black or brown with white, orange or yellow markings. Their nests are gray or brown and are usually found in trees.

•    Fire ants are reddish-brown ants living in large mounds, mostly in warmer climates. They attack with little warning, inserting highly concentrated toxins that cause burning and pain.
What symptoms to look out for?
There will be pain, swelling and redness at the site of the insect bite. This is normal and with anti allergic tablets can be controlled.
You should be concerned if the following symptoms develop
Swelling of the face, throat or tongue
•    Difficulty breathing
•    Dizziness
•    Stomach cramps
•    Nausea or diarrhea
•    Itchiness and hives over large areas of the body
This could be a part of a fatal reaction called Anaphylaxis and immediate medical attention is required.
A single insect sting, or attack by a swarm of bees can cause a severe reaction like fever, nausea, fainting, seizures, shock and even death.
A serum sickness type of reaction, fever, rashes, joint pain, etc can be seen too. It might take a few days even.
Preventive measures for insect stings:
Insects sting only when they are injured or feel that they are attacked.
Destroy any beehives or wasp nests near to you. You may require good pest control services.
If you spot stinging insects, remain calm and quiet, and slowly move away.
Avoid brightly colored clothes and perfume. The insects could be attracted to you, thinking that you are a flower.
Bees get attracted to sweet things. Keep soft drinks and sodas covered. Food should be covered to protect from insects.
Wear closed shoes to avoid stepping on anything.
Avoid loose- fitting clothes where insects can crawl between the skin and clothing.
https://www.aaaai.org/conditions-and-treatments/allergies/stinging-insect-allergy
Mosquito bites
Mosquitoes are one of the deadliest insects.
Their bites not only cause itching, but they spread diseases such as malaria, Dengue, Chikungunya, Yellow fever, Zika Virus, filariasis and many other deadly diseases.
They are common in tropical countries.
Mosquitoes are commonly seen during dusk and early morning. They like dark places and hide in corners.
Outdoors in gardens and where there is excess vegetation mosquitoes are fairly common. They bite children playing in parks, etc.
How to avoid mosquitoes:
First and foremost, they should not be allowed to breed.
Mosquitoes lay eggs in water. Their larvae hatch and breed in water. To stop them from breeding, unnecessary pooling , stagnation of water should be prevented.
Fish tanks should be cleaned periodically, and covered.
water collects in old garbage, tyres, etc. That should not be allowed
Puddles and potholes are to be filled in. Fountains and fish ponds should be drained if not in use.
Junk and clutter should be eliminated in the house. Mosquitoes tend to hide in corners, below tables, behind curtains,etc
How to avoid mosquito bites:
Mosquitoes get attracted to dark clothing, so wear light colored clothes.
The room should be bright. Bed-sheets and curtains should be light colored
Use of natural mosquito repellent cream.
Mosquito repellent sprays and plug in devices can prevent mosquitoes entering a room, but the fumes can cause allergies. Use them with discretion, such as during evening. after spraying open the doors and windows and turn on the fan. Allow the fumes to disperse.
Early morning and late evening keep the doors and windows closed.
USE A MOSQUITO NET WHILE SLEEPING
Immunotherapy
Venom immunotherapy for honey bees, wasps and fire ants has found to have a good result.